Welcome to Cuitandokter
We're thrilled that you've found your way to our little corner of the internet. Our blog is dedicated to New MINI crossover will spearhead brand's fresh EV design language, and we're passionate about sharing our knowledge and expertise on the subject.
Our goal is to create a community of like-minded individuals who are interested in New MINI crossover will spearhead brand's fresh EV design language, whether you're just starting out or you're already an expert in the field. We believe that everyone has something to contribute, and we welcome all perspectives and opinions.
Through our blog posts, we hope to provide you with valuable information, insights, and tips on New MINI crossover will spearhead brand's fresh EV design language. We're committed to delivering high-quality, well-researched content that is both informative and engaging.
So, whether you're here to learn something new or to share your own experiences and knowledge, we invite you to join us on this journey. Thank you for visiting, and we look forward to connecting with you!
► New MINI crossover teased in concept form…
► … which hints at brand's upcoming design plans
► Everything we know about MINI's next-gen cars
MINI has given us an early glimpse at its upcoming electric crossover concept. The project still hasn't been named, but the brand has said that the prototype will eventually enter the small premium EV segment. That means it'll become a fresh rival for the likes of the Mercedes EQA and Volvo C40.
This as-yet unbadged crossover will be unveiled in July 2022 as the second car to feature MINI's all-new design language. We've already seen prototype versions of the next-generation Hatch – and it sounds like some of that car's styling elements will be transferred to this new crossover.
MINI has already confirmed that its now trademark Union Jack LED taillights will feature on all its next-generation models, although the units on each car will have a slightly different signature. A new OLED digital gauge cluster, first previewed on the Urbanaut people carrier concept, will also be rolled out across the brand's line-up.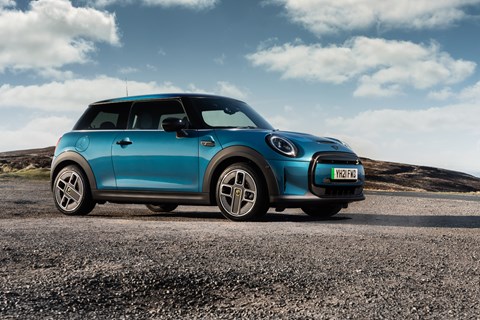 The brand's next-gen dashboards will feature an unusual circular infotainment screen, rather than the company's old rectangular unit set into a circular surround. MINI says that every inch of the screen will be useable, and that it'll be the first-ever car manufacturer to implement such a system.
MINI says it's going all-in on sustainability, too. Its next-generation cars won't feature any leather in their interiors, and they'll do away almost entirely with chromed plastic trim. The brand will also reduce the number of components in its cars in an effort to help preserve resources. The design drive operates under the heading of "Charismatic Simplicity."
What about this new crossover?
MINI hasn't told us much about it yet. From what we can tell by the company's teaser image, it'll be a compact crossover that will sit between the Hatch and the Countryman in size. We expect it'll be based on a version of the new MINI Electric's platform and powered by the same motor.
We probably won't see it for a while yet. The next MINI Hatch is set for launch in late 2023, and we expect the company will be channelling all its energy into getting that car out of the door before embarking on the next. As such, we expect this new crossover will hit the market in 2024.
MINI's teaser image suggests the crossover's styling will be a bit of a departure from convention. You can just make out the car's front wing, wheel arch and headlamp – and all appear to be far more angular than anything else in MINI's range. The oblong side mirrors and rugged roof rack shown by the shadow in the background are equally new, but the glasshouse looks familiar.
And the rest of the MINI range?
There's a lot of change on the horizon. The next-generation three-door MINI hatchback will be slightly smaller than the model it replaces, and it'll be launched as an electric car primarily – although there will be a petrol-engine model available. That's a marked difference from the brand's current "petrol-first" attitude towards the car.
CAR Magazine spoke to Bernd Körber in late October, and he revealed just what was rattling around inside his head for the future of the brand. He said: "We've got the next five years pretty much buttoned up, but even thinking about the platform that will replace the matrix introduced in 2023 is still spooky stuff right now."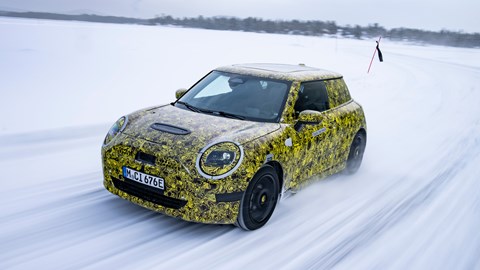 Körber also mentioned that the petrol-powered versions of the next MINI hatchback won't stick around forever – they'll only be on sale until 2025. "But here's the surprise," he said. "The visual difference between the two cars will be hard to spot. How come? Because we won´t mess with our prime icon. A MINI is a MINI, no matter whether it is battery- or petrol-powered."
What's going to happen to the five-door variant, you ask? It'll soldier on in combustion-engine form for the time being – but there won´t be a battery-operated equivalent. The same goes for the MINI Convertible, which will remain with combustion power until 2025.
New Countryman set for launch in 2024
MINI's next-generation Countryman will take another leap of faith (at least where its badge is concerned), growing even larger than before. It'll also be the first MINI ever made in Germany, with production shifting to Leipzig. This is partly due to efficiency – the new Countryman will be based on the same platform as the latest BMW X1 and iX1, so it makes sense build both in the same plant.
Körber said: "The plan is […] to position the bigger third-generation Countryman SUV about half a notch above the current model." He doesn't see an issue with offering the car with both combustion and electric power either, stating: "Thanks to the modular layout, there should be no practical downside for either drivetrain option."
What else is on the electric product plan?
Reading between the lines, it seems that MINI will use the second half of the decade to move its bookends further apart. At the lower end of the company's line-up, we expect to see a smaller three-door electric hatch which takes influence from the Rocketman concept. This city car could eventually replace the barely larger next-generation three-door hatch.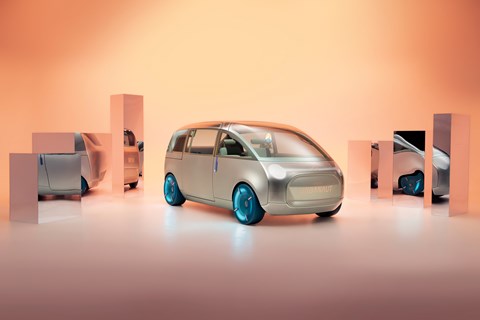 MINI's throwing caution to the winds at the other end of the scale, as the company is expected to launch a production version of the outlandish Urbanaut MPV concept (above). According to an inside source, the Urbanaut will replace the current Clubman which due to be discontinued in late 2023. The finished car will also feature the same sliding door and lounge layout as the concept.
Any performance cars? What's happening to JCW?
MINI has already hinted that it's experimenting with an all-electric JCW hot hatchback. The brand recently released some images of a prototype model covered in camouflage – and it was wearing the MINI GP's massive rear wing and wild wheel arch extensions. No exhaust, though.
Körber said: "We know for sure that JCW will eventually also go fully electric, but perhaps we should kick off one more truly radical project before the high voltage revolution strikes." Such a plan is sure to please petrolheads, but we're not sure whether a more potent version of the MINI GP (perhaps with a manual gearbox and an even harsher chassis) would suit the brand's new image.
Those close to MINI have told CAR Magazine that this is an ongoing debate – and a lot of people working for the brand reckon the company should divert all its energy to the electrification effort.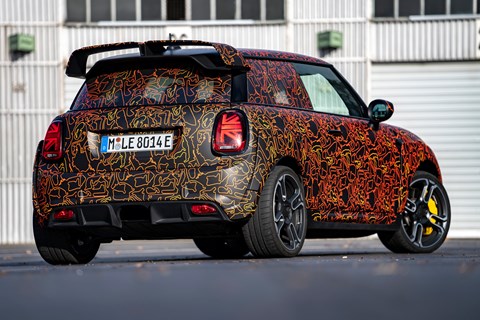 The 302bhp 2.0-litre four-cylinder petrol engine used in the current MINI GP has about reached its limit. Trying to screw any more power out of it would probably involve a lot of cost-prohibitive strengthening, which would put the car well out of reach of those that would buy it.
However, an electrified version of the car could easily produce between 350–400bhp – and a load of torque to go with it. To keep weight down (so not to ruin the handling), insiders have suggested the car will be fitted with small 40kWh and 60kWh batteries, offering modest ranges of between 190–250 miles. A fast-charging 400V electrical system will also come as standard.
Read our Mini reviews here
Thank you for taking the time to read my blog. I hope that you found the information, insights, and perspectives that I shared to be valuable and engaging.
If you have any feedback, suggestions, or questions, please feel free to reach out to me. I'm always looking for ways to improve my blog and provide the best possible experience for my readers.
I'm committed to delivering high-quality content that is informative, well-researched, and thought-provoking. Whether you're interested in the topics that I cover or you're just looking for something new to read, I hope that you found something of interest on my blog.
Thank you again for your support and engagement. I look forward to sharing more content with you in the future. Stay tuned for more updates and insights, and have a great day!
source : https://www.carmagazine.co.uk/electric/mini/