Welcome to Cuitandokter
We're thrilled that you've found your way to our little corner of the internet. Our blog is dedicated to New electric Suzuki Jimny confirmed for Europe, and we're passionate about sharing our knowledge and expertise on the subject.
Our goal is to create a community of like-minded individuals who are interested in New electric Suzuki Jimny confirmed for Europe, whether you're just starting out or you're already an expert in the field. We believe that everyone has something to contribute, and we welcome all perspectives and opinions.
Through our blog posts, we hope to provide you with valuable information, insights, and tips on New electric Suzuki Jimny confirmed for Europe. We're committed to delivering high-quality, well-researched content that is both informative and engaging.
So, whether you're here to learn something new or to share your own experiences and knowledge, we invite you to join us on this journey. Thank you for visiting, and we look forward to connecting with you!
► Suzuki's electric future detailed
► First full EV to launch by 2025
► Compact SUVs and a tallboy-style kei car also in the mix
Suzuki has announced an extensive range of electrification plans, with the brand aiming to achieve carbon neutrality by 2050 in Europe. Helping this along will be a range of five new electric cars, launched before 2030 and with the first hitting the market by 2025.
The 2 trillion yen (£12.4bn) investment encompasses not just Suzuki's automotive division, but motorcycles and marine power too.
What new EVs will Suzuki release?
The five models destined for Europe have been revealed in silhouette form in Suzuki's 'Growth Strategy' document. The first model is likely to be a production version of the recently revealed eVX concept, an S-Cross-sized SUV with a 60kWh battery pack. It would rival cars such as the Kia Niro EV and Peugeot e-2008.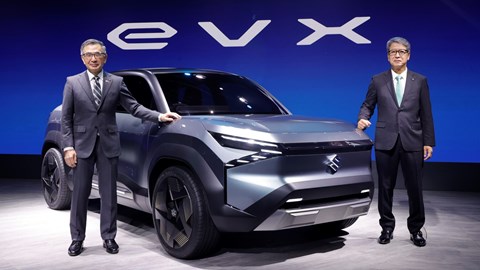 Also on the cards appears to be a kei-sized model, with a similar 'tallboy' silhouette to its existing models such as the Spacia, Every or Hustler. Two more conventional SUVs also appear to be on the cards – Suzuki has form with introducing two similar-sized models with different appeals, such as the existing S-Cross and Vitara, so we wouldn't rule out some of the BEVs being marketed thus. One appears to be a battery version of the Suzuki Fronx, a coupe-SUV about the size of a VW Taigo recently launched in India.
Most exciting is the fifth model, which has the unmistakable boxy silhouette and five-bar grille of the Jimny – though with some newly jazzy star-shaped daytime running lights.
The Jimny was discontinued in Europe – in passenger form – in 2020, as the firm sought to reduce its average CO2 emissions by hybridising as many models as possible. A new electric model would solve that, though the car's tiny footprint and rugged chassis is likely to mean fairly limited power and range.
Still, an electric motor is almost bound to bring improvements over the current car's 99bhp and 95lb ft. And the Jimny's not dead in the water yet, with a new five-door model released for India, Africa and Latin America.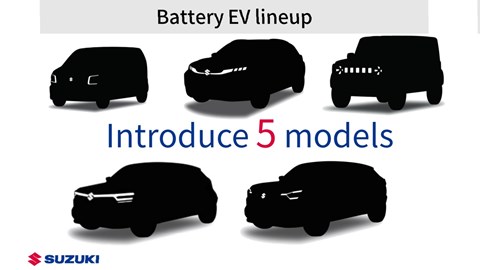 Suzuki's aiming for around an 80/20 powertrain mix, in favour of battery-electric, with the remainder taken by hybrids.
What else is on the cards for Suzuki?
A raft of new battery motorcycles and scooters and five new electric outboard motors should keep those on two wheels (and no wheels) happy.
There'll also be significant investment in the construction of a new battery plant, as well as research into alternative fuels for markets such as India, which will be biogas or ethanol mixes.
Suzuki UK's being fairly cagey in confirming anything, sadly, with a statement reading: "Suzuki will launch its first fully Electric Vehicle in the UK and Europe UK by 2025 and further detail will be available closer to the launch date. Apart from the eVX Concept announced in Delhi recently, no other global specific models have been confirmed.
"In its mid-term Five-year management plan in 2021 through to 2026, Suzuki Motor Corporation announced further investment in Research and Development of vehicle electrification to the total value of £6.6bn."
Thank you for taking the time to read my blog. I hope that you found the information, insights, and perspectives that I shared to be valuable and engaging.
If you have any feedback, suggestions, or questions, please feel free to reach out to me. I'm always looking for ways to improve my blog and provide the best possible experience for my readers.
I'm committed to delivering high-quality content that is informative, well-researched, and thought-provoking. Whether you're interested in the topics that I cover or you're just looking for something new to read, I hope that you found something of interest on my blog.
Thank you again for your support and engagement. I look forward to sharing more content with you in the future. Stay tuned for more updates and insights, and have a great day!
source : https://www.carmagazine.co.uk/electric/suzuki/