Welcome to Cuitandokter
We're thrilled that you've found your way to our little corner of the internet. Our blog is dedicated to Ford calls for EVs to be mandatory by 2035, and we're passionate about sharing our knowledge and expertise on the subject.
Our goal is to create a community of like-minded individuals who are interested in Ford calls for EVs to be mandatory by 2035, whether you're just starting out or you're already an expert in the field. We believe that everyone has something to contribute, and we welcome all perspectives and opinions.
Through our blog posts, we hope to provide you with valuable information, insights, and tips on Ford calls for EVs to be mandatory by 2035. We're committed to delivering high-quality, well-researched content that is both informative and engaging.
So, whether you're here to learn something new or to share your own experiences and knowledge, we invite you to join us on this journey. Thank you for visiting, and we look forward to connecting with you!
► Hidden ways EVs are changing the car market
► Why familiar badges will disappear fast
► Who's going electric when: a handy guide
Ford has joined calls for the EU to make electric vehicles mandatory in the next decade. Ford has signed a petition calling on European legislators to make zero-emissions cars and vans compulsory by 2035.
Stuart Rowley, chair at Ford of Europe, said: 'We are targeting all Ford vehicles to be zero emissions by 2035. To successfully achieve this, EU policymakers must also establish mandatory national targets for a seamless electric charging infrastructure that lives up to the growing demand for electric vehicles.'
Why Europe's car makers are switching to EVs
Electrification is sweeping the car industry and won't just mean the replacement for your current car will gain a battery and electric motor – it's fundamentally changing the types of car on sale, their RRP sticker price and banishing many familiar model names to the automotive scrapheap in the sky.
Volkswagen's chief financial officer admitted in an interview with the Financial Times that the VW Group's model range would more than halve by the end of the decade. CFO Arno Antlitz said: 'The key target is not growth. We are [more focused] on quality and on margins, rather than on volume and market share.' 
In an example of how electrification will reshape the car market, Antlitz said the group's current European line-up of petrol and diesel cars would shrink from around 100 models across different brands today by 60% in the next eight years. Honda agrees: it said this month that it'll pare back model complexity by two-thirds by 2025.
Many familiar names we've seen on bootlids for years will be consigned to the history books as the industry consolidates in the e-revolution. You can see it happening already, as manufacturers abandon the small city hatchback market.
How Citroen has repositioned the C3 to take over the void left by the decision to axe the C1
A perfect storm reshaping the car industry: electrification, Covid, chip shortages and now war
It's not just the drive towards electric vehicles (EVs) that's forcing the change. The 2020 Covid pandemic, supply problems with microchips, war in Ukraine and even Brexit have conspired to create powerful levers changing car makers' business models. 
Tellingly, many of the world's biggest brands have performed well in the past two years of crisis in the industry, despite building fewer cars. Companies such as BMW, Mercedes-Benz and Skoda all issued strong results, indicating that a high-volume strategy isn't necessarily needed for sustainable long-term profits.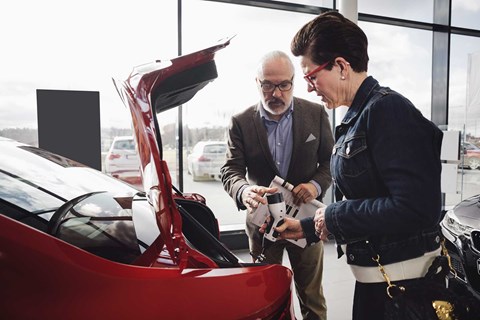 Manufacturers are embracing electrification at different speeds. While combustion engines are being mandated out of showrooms in many European countries later this decade, it is likely that other territories will continue to sell petrol and diesel cars for years, maybe decades, to come. So while Jaguar has already committed to become 100% battery electric by 2025, other more global players are reluctant to put all their eggs into one basket quite so quickly.
To find out how manufacturers are transitioning at different speeds, we list their proposed timetables to electrify in the next section.
Best electric cars: our pick of the finest EVs
When are car manufacturers stopping making petrol and diesel cars?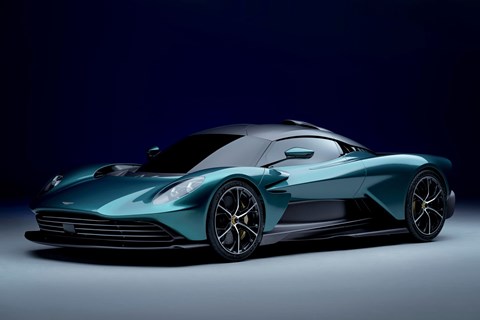 Aston Martin
Gaydon is preparing a raft of electrified cars: in March 2022 the company confirmed the first plug-in hybrid Aston Martin – 'the mid-engine supercar Valhalla (above) – will commence deliveries in early 2024. By 2026, all new Aston Martin product lines will have an electrified powertrain option, with a target for its core portfolio to be fully electrified by 2030.' 
Audi
The Bavarian car maker is planning to stop selling combustion engine cars in 2033. CEO Markus Duesmann is calling on all European car markers to abandon fossil fuels altogether en bloc and linked the sustainability pressures with extenral factors such as war in Ukraine. 'Let's be courageous as Europeans and take it upon ourselves to give up on fossil fuels completely from 2040,' he told a conference. 'We must put all our energy towards battery-electric vehicles for individual mobility.'
BMW
One of the early electric pioneers, BMW is well on the way to electrifying its whole range. In December 2021 it confirmed: 'The MINI brand will go all-electric from 2030 onwards. Rolls-Royce will likewise become a fully-electric brand by 2030.' And BMW? The situation is a little more complex here – board member Peter Nota pledged that 'Fully-electric vehicles will account for at least half of the sales of the BMW Group by 2030.' More on BMW's electric plans here.
Ford
The Blue Oval is going all-in on electrification and pledged in March 2022 that it is 'targeting zero emissions for all vehicle sales in Europe and carbon neutrality across its European footprint of facilities, logistics and suppliers by 2035.' More about Ford's electric plans here.
Honda
Honda was the first Japanese car maker to state publicly that it would phase out sales of petrol cars completely from 2040. The announcement made in 2021 was a big move for the company that brought us VTEC and memorable F1 engines. Honda's pledge includes its motorcycle division. More about Honda's electric plans here.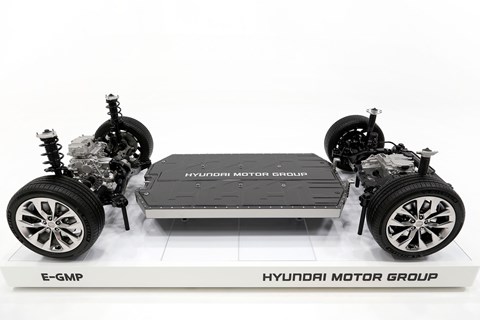 Hyundai-Kia
Hyundai and Kia have quietly become leaders in electrification and are investing heavily in a raft of new EVs underpinned by the e-GMP platform (above), as they seek a 7% global market share in electric cars by mid-decade. Its upmarket Genesis division has committed to launching only 'electrified' models from 2025, but the group has yet to pledge when all combustion engines will be phased out. Read more about Hyundai's electric plans here – and read about Kia's EV strategy here.
Jaguar Land Rover
JLR is going all-in on electrification: Jaguar has committed to become a pure electric brand from 2025, while Land Rover will transition more gradually, but with six new all-electric 4x4s due in the next five years. The company is aiming for net-zero carbon emissions by 2039, three years after tailpipe emissions achieve the same goal – suggesting that petrol and diesel will still feature until the middle of the next decade. Read about Jaguar's electric plans here.
Lotus
The Emira is the last petrol-powered Lotus to be launched – from now on, all future Lotus products will be 100% electric. Next up in the Vision80 roadmap preparing the Norfolk business for its 80th anniversary in 2028: the Eletre e-SUV (2022), an electric four-door coupe (2023), a smaller SUV (2025) and an all-electric sports car (2026). Lotus's electric car plans in detail.
Mazda
The Japanese brand has been more cautious on an electrification strategy: the company will launch three additional pure EVs by 2025, but has not yet committed to an end date for its combustion engine models. Its Sustainable Zoom-Zoom 2030 strategy means that every new Mazda will have some degree of electrification by the end of the decade and a quarter will be full BEVs.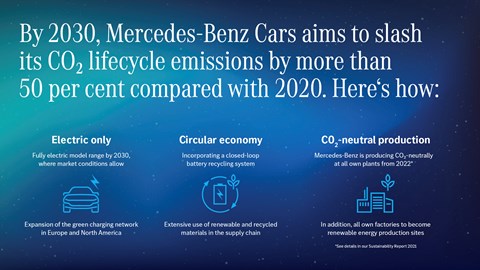 Mercedes-Benz
Daimler has committed that every Mercedes model will be available with a 100% electric powertrain by 2025 – and every new vehicle architecture launched from that date will be pure electric. By 2030, the range will be fully electric in Europe. Investment into combustion engines and plug-in hybrid technologies will drop by 80% between 2019-2026. Small-car offshoot Smart is already 100% electric. All about Mercedes' electric car plans.
Nissan
Nissan arguably launched the world's first mass-market electric car in the Leaf of 2011, but it's not in a rush to desert combustion engines altogether. Under its Nissan Ambition 2030 strategy, the company is aiming for half of all Nissan and Infiniti sales globally to be electrified by the end of the decade – led by adoption in Europe. Everything you need to know about electric Nissans.
Porsche
Porsche is steadily electrifying its entire range, with a mix of hybrids and full battery electric vehicles (BEVs). It forecasts that more than 80 per cent of its new-car range will be fully electric by 2030, by which time its entire value chain will be carbon-neutral. More on Porsche's electric car plans here.
Renault 
Along with alliance partner Nissan, Renault has been an early adopter of EVs – and is planning 10 new electric models by 2025. Many of them will be retro-styled renaissance cars such as the Renault 5 Electric, already showcased as a trendy supermini riffing on the 1980s Super Cinq. End goal? Renault has previously committed to have 90% of its models electrified by 2030 and carbon neutrality in Europe by 2040.
Stellantis 
The owner of Abarth, Alfa Romeo, Chrysler, Citroen, Dodge, DS, Fiat, Jeep, Lancia, Maserati, Peugeot, Ram and Vauxhall hasn't given a date for the end of its group combustion aspirations, but some brands will go all-electric before others. In Europe, it is planning for 70% of its sales to be 'low-emissions vehicles (LEV)' by 2030, compared with 14% today. Look out for its four new STLA platforms that are 100% electric.
Tesla
The original EV disruptor isn't about to lose its electric focus any time soon, obvs! More on Tesla's electric car range.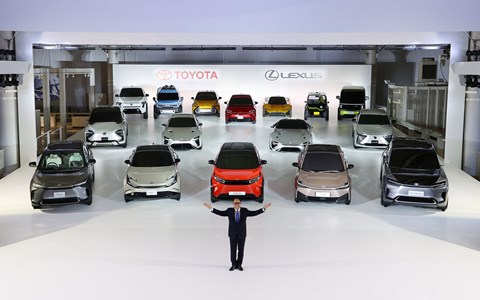 Toyota
Toyota is working on its Beyond Zero (BZ) programme, which will sire 30 battery-electric vehicles forecast to be selling 3.5 million units annually by 2030. Boss Akio Toyoda has even given a sneak peek of many of these new models (above). Lexus will transition to 100% pure electric by 2030 in most developed markets, including Europe, North America and China. Click here for more on Toyota's EV plans – and here for Lexus's electric strategy.
Volkswagen
The VW Group is a major player in the electrification drive – spurred on by the fall-out from 2016's dieselgate emissions scandal, the Germany car-making giant has accelerated its EV programme. Every one of its mainstream brands (Audi, Bentley, Cupra, Lamborghini, Porsche, Seat, Skoda) is plugging in, and its MEB family car hardware is even being sold to Ford and other platform partners. End result? Rapid adoption of full EVs, targeted to double every two years from 5% in 2021 to 20% in 2025, on its way to 50% penetration across the group by 2030.
Volvo
Volvo's Polestar division is already 100% electric, but the mothership brand is taking a more gradual approach to electrification. Gothenburg has committed to half of its annual sales to be fully electric by 2025, under the Recharge brand name, with the rest most likely plug-in hybrids. More on Volvo's electric strategy.
Further electric car reading
The best electric cars on sale today
The benefits of going electric
How much does it cost to charge an electric car?
Thank you for taking the time to read my blog. I hope that you found the information, insights, and perspectives that I shared to be valuable and engaging.
If you have any feedback, suggestions, or questions, please feel free to reach out to me. I'm always looking for ways to improve my blog and provide the best possible experience for my readers.
I'm committed to delivering high-quality content that is informative, well-researched, and thought-provoking. Whether you're interested in the topics that I cover or you're just looking for something new to read, I hope that you found something of interest on my blog.
Thank you again for your support and engagement. I look forward to sharing more content with you in the future. Stay tuned for more updates and insights, and have a great day!
source : https://www.carmagazine.co.uk/electric/ev-transition-period-timetable/